This galaxy alcohol art piece was made using alcohol inks, inspired by the universe. The energy and life in the colours reflects how I feel about the cosmic universe. The metallics used shimmer and shift in the light. This series of galaxy alcohol art pieces includes artwork inspired by the milky way, planets, nebulas, and stars. This has been finished with Golden Archival Aerosol MSA Varnish with UVLS to protect the colours. All alcohol ink paintings that I create are complete one-offs and are never reproduced in print or greeting cards. They are entirely unique pieces. Most of my work includes metallics and to maintain the integrity and uniqueness of each piece, they are never reproduced. Once they are gone, that is it – they belong to the new owner of the piece.
TITLE: Galaxy (II)
YEAR: 2021
SIZE: 12×15.5cm (Framed) 6.5x9cm (Aperture)
PRESENTATION: Framed
MEDIUM: Alcohol Inks
PRICE: £45
SHIPPING: Royal Mail Small Parcel Tracked 48 with Signature. Shipping is included free of charge, or paintings can be collected locally.

[show_file file="https://yasminfrench.com/wp-content/uploads/desc-sales.html"]

MORE LIKE THIS: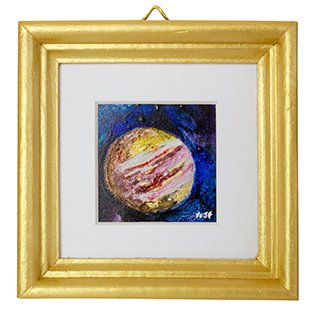 [show_file file="https://yasminfrench.com/wp-content/uploads/faq.html"]