"Journey to the Centre of the Milky Way" is an original alcohol ink painting crafted on ceramic tile. This artwork invites you to embark on a cosmic adventure and is part of a series inspired by the mysteries of space and the universe. The series features celestial objects such as meteors, planets, comets, and, of course, the Milky Way.The painting on ceramic tile is a mesmerizing blend of colours, with shades of blue, purple, pink, and white dominating the piece. Silver metallics add depth and a touch of brilliance to the composition, while neon pink, silver, and brass splatters create a dynamic visual effect.To ensure the longevity of the vibrant colours on the ceramic tile, "Journey to the Centre of the Milky Way" has been meticulously finished with Golden Archival Aerosol MSA Varnish with UVLS.What truly sets this piece apart is its originality. Like all alcohol ink original paintings, it is a complete one-off, never to be reproduced in print or greeting cards. Each creation is entirely unique and often incorporates metallic elements, preserving the integrity and exclusivity of each piece.When you acquire "Journey to the Centre of the Milky Way" on ceramic tile, you become the sole owner of this work of art. It won't be duplicated, making it a cherished addition to your collection.Whether you're a space enthusiast or simply appreciate captivating art, this ceramic tile painting captures the essence of the Milky Way and the boundless beauty of the cosmos.In summary, "Journey to the Centre of the Milky Way" is a unique alcohol ink painting on ceramic tile that promises to transport you to the heart of the galaxy. Don't miss the opportunity to make it yours, as once it's gone, it belongs exclusively to you.
TITLE: Journey to the Centre of the Milky Way
SIZE: 27x27cm (Framed) 20x20cm (Aperture)
PRESENTATION: Framed
MEDIUM: Alcohol Ink Original Painting
PRICE: £55
SHIPPING: Royal Mail Medium Parcel Tracked 48 with Signature. Shipping is included free of charge, or paintings can be collected locally.
[show_file file="https://yasminfrench.com/wp-content/uploads/desc-sales.html"]
MORE LIKE THIS: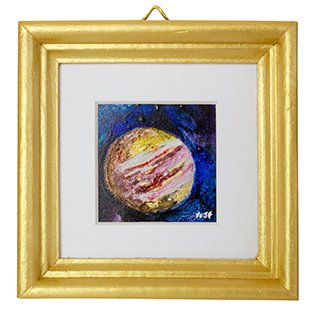 [show_file file="https://yasminfrench.com/wp-content/uploads/faq.html"]