"Kaleidoscope" is a captivating miniature alcohol ink painting, inspired by the vibrant colours seen in a kaleidoscope. Against a dark blue backdrop, it features shades of purple, pink, green, and gold.This unique artwork is designed to brighten up your desk, bedside table, or shelf. It also pairs beautifully with other mini paintings in similar colour schemes for a cohesive gallery wall.To preserve its brilliance, "Kaleidoscope" has been meticulously finished with Golden Archival Aerosol MSA Varnish with UVLS. This ensures the colours remain vibrant over time.What sets this piece apart is its originality. It's a one-of-a-kind alcohol ink painting, never to be reproduced in print or greeting cards. Most of my work incorporates metallics, adding an elegant touch.When you acquire "Kaleidoscope," you own a unique piece of art. It will not be replicated, maintaining its integrity and uniqueness.Whether you're an art enthusiast or simply want a burst of colour in your space, "Kaleidoscope" is a perfect choice. It captures the essence of a kaleidoscope's vibrant world.In summary, Kaleidoscope of colour is a unique, miniature alcohol ink painting that brings vibrant colours into your life. Once it's gone, it belongs exclusively to you.
TITLE: Kaleidoscope
SIZE: 20x15cm (Framed) 11.5×6.5cm (Aperture)
PRESENTATION: Framed
MEDIUM: Alcohol Ink Original Painting
PRICE: £95
SHIPPING: Royal Mail Medium Parcel Tracked 48 with Signature. Shipping is included free of charge, or paintings can be collected locally.
[show_file file="https://yasminfrench.com/wp-content/uploads/desc-sales.html"]
MORE LIKE THIS: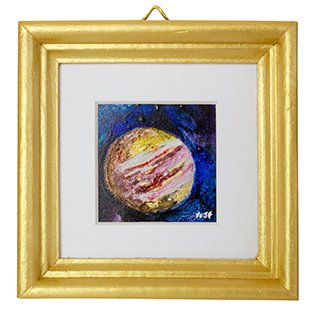 [show_file file="https://yasminfrench.com/wp-content/uploads/faq.html"]