I love creating planet Earth paintings. Our Planet presents a captivating new addition to the collection. This original alcohol ink artwork, painted on yupo paper, celebrates the beauty and wonder of our home planet. Encased in a stunning gold frame, this miniature painting is a visual ode to Earth.
In this piece, I have captured the essence of our planet with a mesmerising blend of green, blue, and gold tones. The intricate details showcase the lush green landscapes, the deep blue oceans, and the shimmering gold hues that make our world so unique.
Much like the cosmic journey depicted in "Journey to the Centre of the Milky Way," this artwork invites you to embark on an exploration of our own planet, celebrating its natural beauty. While "Journey to the Centre of the Milky Way" delves into the mysteries of the universe, the planet Earth paintings bring our focus back to the extraordinary beauty found right here on Earth.
Just as the previous piece was finished with Golden Archival Aerosol MSA Varnish with UVLS, the same level of care and attention to detail has been devoted to Our Planet. This ensures the preservation of the vibrant colors and tones.
What truly distinguishes Our Planet is its uniqueness. Like all alcohol ink original paintings, it is a one-of-a-kind creation, never to be reproduced in print or greeting cards. Each piece is entirely exclusive and often incorporates metallic elements, maintaining the integrity and exclusivity of each work.
When you acquire Our Planet, you become the sole owner of this miniature artwork. It won't be duplicated, making it a cherished addition to your collection, reflecting your appreciation for the beauty of our planet.
Whether you're an art connoisseur or simply appreciate the splendor of our world, Our Planet captures the essence of our home planet in a way that is both captivating and awe-inspiring.
In summary, Our Planet offers a unique and exclusive representation of our planet in alcohol ink. Don't miss the opportunity to make it yours, as once it's gone, it belongs exclusively to you.
TITLE: Our Planet
SIZE: 18.5×18.5cm (Framed) 9x9cm (Aperture)
PRESENTATION: Framed
MEDIUM: Alcohol Ink Original Painting
PRICE: £45
SHIPPING: Royal Mail Medium Parcel Tracked 48 with Signature. Shipping is included free of charge, or paintings can be collected locally.
[show_file file="https://yasminfrench.com/wp-content/uploads/desc-sales.html"]
MORE LIKE THIS: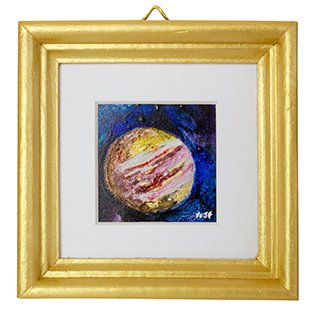 [show_file file="https://yasminfrench.com/wp-content/uploads/faq.html"]