Discover "Jupiter," a striking original alcohol ink painting in the Cosmic Series. Against a deep blue backdrop, vibrant shades of blue, yellow, orange, and pink bring the gas giant to life.The "painting of Jupiter" has received the utmost care and protection. It is finished with Golden Archival Aerosol MSA Varnish with UVLS, ensuring the colors remain vivid and shielded from UV damage.What sets my alcohol ink original paintings apart is their one-of-a-kind nature. I never reproduce them in print or greeting cards, preserving their uniqueness. Many of the pieces incorporate metallic elements, further enhancing their individuality.When you acquire one of the artworks, that's it – it is gone. Once the piece finds a new home, it is gone forever, belonging solely to the owner of the original painting.Whether you're an astronomy enthusiast or an admirer of unique art, these alcohol ink creations are captivating additions to your space. These miniature paintings are designed to sit proudly on a shelf, bedside table, or office desk – or in sets on a gallery wall.In essence, "Jupiter" isn't just a "painting of Jupiter"; it's a unique work of art. With its dark blue canvas and vibrant colors, it captures the essence of the gas giant. Explore the cosmic series and claim a piece of the cosmos for yourself, knowing that each artwork is a singular masterpiece.
TITLE: Jupiter
SIZE: 9x9cm (Framed) 4.5×4.5cm (Aperture)
PRESENTATION: Framed
MEDIUM: Alcohol Ink Original Painting
PRICE: £45
SHIPPING: Royal Mail Medium Parcel Tracked 48 with Signature. Shipping is included free of charge, or paintings can be collected locally.
[show_file file="https://yasminfrench.com/wp-content/uploads/desc-sales.html"]
MORE LIKE THIS: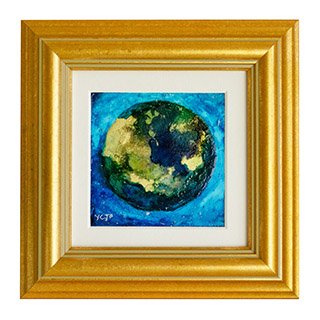 [show_file file="https://yasminfrench.com/wp-content/uploads/faq.html"]