Discover the allure of "To the Moon and Back," a captivating galaxy artwork created using alcohol ink. This striking painting is part of a series that explores the cosmos, featuring metallic gold and silver accents against a dark backdrop, adorned with silver stars. Vibrant shades of green, blue, and purple add depth and dimension, resembling the beauty of space.The use of metallic gold and silver creates a mesmerizing interplay of light and dark, mimicking the sparkle of distant stars against a dark night sky. "To the Moon and Back" stands as a unique piece in a collection dedicated to celestial wonders, including meteors, planets, comets, and the Milky Way.This galaxy artwork invites you to embark on a visual journey into the depths of space. Its intricate details and cosmic color palette capture the essence of the universe's grandeur. It's not just a painting but a portal to the cosmos, offering a glimpse of the infinite beyond.Explore the mystery and beauty of "To the Moon and Back" and experience the boundless possibilities of the universe through this extraordinary galaxy artwork.This has been finished with Golden Archival Aerosol MSA Varnish with UVLS to protect the colours. All alcohol ink original paintings that I create are complete one-offs and are never reproduced in print or greeting cards. They are entirely unique pieces. Most of my work includes metallics and to maintain the integrity and uniqueness of each piece, they are never reproduced. Once they are gone, that is it – they belong to the new owner of the piece.
TITLE: To the Moon and Back
SIZE: 14x15cm (Framed) 4.5×5.5cm (Aperture)
PRESENTATION: Framed
MEDIUM: Alcohol Ink Original Painting
PRICE: £45
SHIPPING: Royal Mail Medium Parcel Tracked 48 with Signature. Shipping is included free of charge, or paintings can be collected locally.
[show_file file="https://yasminfrench.com/wp-content/uploads/desc-sales.html"]
MORE LIKE THIS: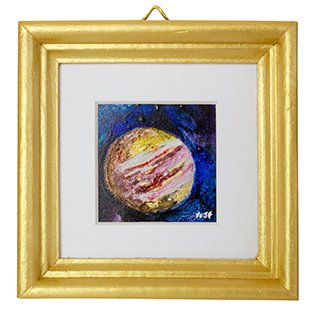 [show_file file="https://yasminfrench.com/wp-content/uploads/faq.html"]