How I organise paint tubes and colours
Paint pots. Paint tubes. All the brands, and all the colours, in all the sizes! I swear I could open an art shop if I wanted to with the material I have at home, though I do know people worse than me for hoarding (*cough* mum). 
Here are a few ways that I organise my paint tubes and colours and a few other ideas for storage thrown in for fun.
I have a small boxroom and lord knows, that should be plenty of room in theory, but it's shocking how quickly you run out of space when storing paper, frames, completed work, uncompleted work, brushes, paint, tools, packaging… the list is endless! Most of my kit consists of acrylic kit, however I do use other mediums sometimes so have a variety of mediums to store. I try to keep like with like products. So, what to do with all the different size and shapes pots, how do I keep them in order? It often takes more time to find the colours I want for a new painting, than it does to come up with an idea to paint!




There's a few tricks I keep up my sleeve to organise my paint tubes and equipment. The Ikea Kallax is one of my favourite starting points. I have modified a few of the shelves to make it work for me. Removing a couple of the upright dividers creates a large central area, for storing papers & notebooks flat, and a large shelf to stack mediums, varnish, and my metallics and textures. I can see at a glance what is available. Empty jars, old small vases and brownie pots are used for storing brushes and additional water pots. Tall glasses help me store my pencils and pens neatly. Upright cutlery pots make excellent pen holders.
I use a basket on my desk to store paints that are being used on current paintings, so that I have them immediately to hand if I need to squeeze more out (to save me forgetting which colour I originally used).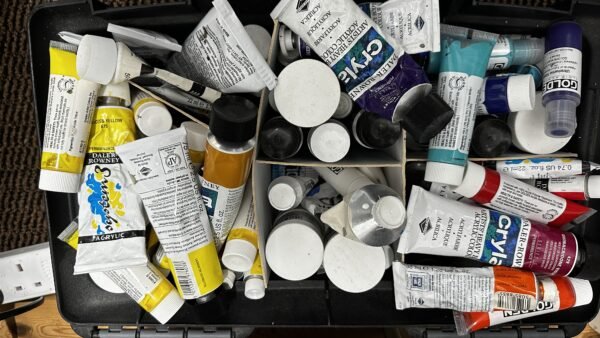 DIY Toolbox Dividers
Here is my trusty toolbox, with homemade dividers to sort the colours. This is one of the best things I've done – the dividers are constructed from mountboard (available from any art shop, online, or in places like The Range) and cut to fit inside the toolbox. I can easily find colours in a pinch now. I know others who use clear drawers which is great if you have the space, but if you don't, the toolkit boxes work just as well.
Things mentioned:
The Ikea KALLAX
A4 paper racks for the Kallax
KALLAX shelf inserts
KALLAX boxes
Chocolate plastic tubs
Ferrero Rocher tray
Sturdy toolbox
Plastic storage drawers
Wire cutlery rack
Mount board
Stanley Knife